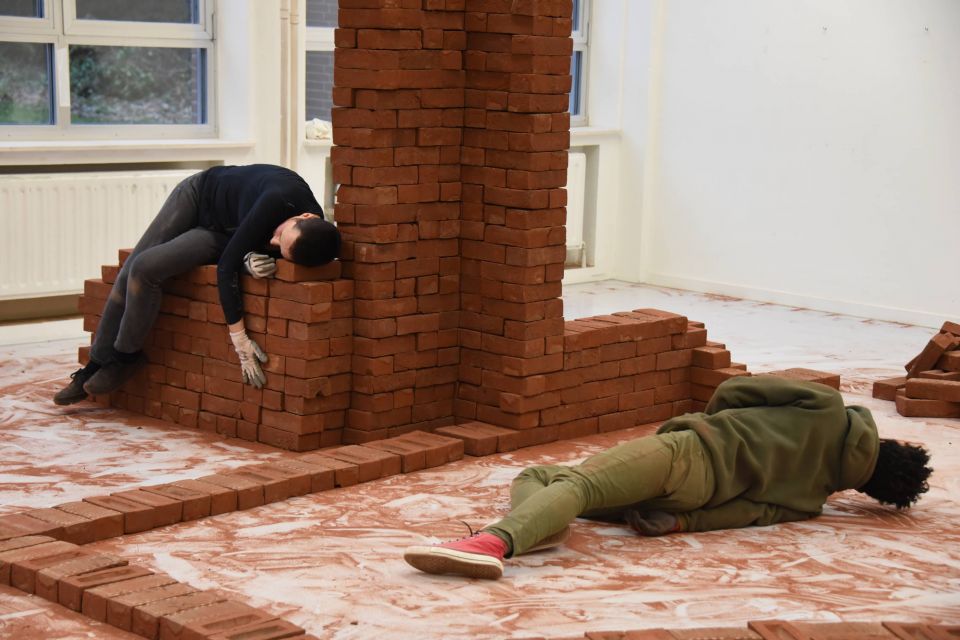 Bie Michels
​'Ingahy Kama' is the Malagasy name of James Cameron, the missionary who introduced bricks in Madagascar. The eponymous film by Bie Michels (BE/CG) opens with a shot of Cameron's statue in the capital. Michels' work is about decolonizing public and mental space. Her installation combines the film with 'Piles of Bricks', an installation/performance made in collaboration with the Malagasy artist Liantsoa Rakotonaivo, and 'Bricks Dust', a series of drawings where the red dust that is shed by bricks is turned into weightless creatures and body traces.
The performative installation Piles of Bricks is by Bie Michels and Malagasy artist Liantsoa Rakotonaivo. The installation is based on scores that play with body vs. space, rhythm, migration, defense, continuously changing reality. Each new installation/performance generates a new interpretation.
Liantsoa made his own installation in Madagascar as well as a video, edited by him and Bie. The performance at the Other Futures Festival will combine perspectives from two different places, with Bie and Li reacting to each other's work.
Bie Michels - click here for "Scores for the performance 'Piles of Bricks'"
Click here for Bie Michels Website